Sign up open for our next Libertas Webinar – details below
Siobhan Grey QC will be joined by Professor Michael Kopelman, Neuropsychiatrist and Professor Chris Brewin, Clinical Psychologist to discuss the accuracy of memory in the courtroom, memory disorders and how neuro-imaging – CT scans and MRI scans – is being relied upon at trial.
This talk will give a brief introduction to some of the ways in which clinical neuroscience is implicated in the criminal courts, with particular reference to memory disorders and incorporating issues such as amnesia for offences, automatism, alcohol-related memory disorder, and fitness to plead. It will give a basic account of how such cases are assessed, including neuro-imaging, and the problems which can arise.
Siobhan Grey QC, is a criminal defence advocate who has led in many murder cases where the central issues involved memory disorders and has relied upon neuroimaging to show a deterioration in the brain. Ms Grey QC has recently succeeded in having a murder conviction quashed in the Court of Appeal on the grounds of fresh evidence and she is currently instructed in appellate cases before the Eastern Caribbean Supreme Court of Appeal and the Privy Council. She is also instructed to lead for the Defence in forthcoming murder cases.
Professor Michael Kopelman is Emeritus Professor of Neuropsychiatry, Kings College, London. He ran a Neuropsychiatry and Memory Disorders Clinic for 25 years at St Thomas's Hospital, London. He was President of the British Academy of Forensic Sciences. He has written on many aspects of amnesia and memory disorders – from the nature of cognitive deficits in neurological disease to amnesia in crime. His medico-legal work has included a variety of criminal, extradition, death row, civil and Court of Appeal cases.
Professor Chris Brewin is Emeritus Professor of Clinical Psychology at the Research Department of Clinical, Educational and Health Psychology, University College London. In 2013 he received the Robert S. Laufer Memorial Award for Outstanding Scientific Achievement from the International Society for Traumatic Stress Studies. He is acknowledged as a leading expert in trauma and memory and his medicolegal work has focused on memory for historic sexual abuse.
Register today – https://www.eventbrite.co.uk/e/memory-and-brain-disorders-in-criminal-trials-registration-158397999681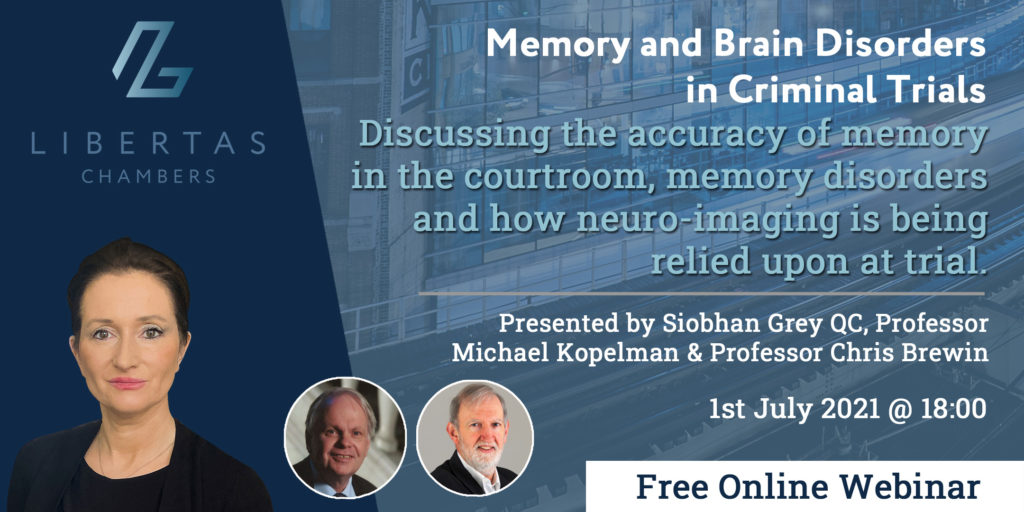 To ensure you don't miss out on future events please register for our newsletter by clicking here.