Empty Nexus - Joint Enterprise & Causation
Watch The Webinar Here
Published: 20th December 2021
This webinar has now finished. Click here to view the Webinar
Discussing the concept of causation in criminal cases where 'nexus' and 'ample evidence' mask serious questions around causation and connectivity to a crime.  Felicity Gerry QC and Associate Professor Beatrice Krebs consider how, post R v Jogee [2016] UKSC 8 'inferences' may go too far in a murder trial and how we can rescue fundamental principles from prosecutorial over reach. This lecture examines the latest decisions and recent trials in the area of complicity and the current trajectory of the senior courts.
Presented by Professor Felicity Gerry QC & Associate Professor Beatrice Krebs
Felicity has appeared in complicity cases in several jurisdictions, including the UK, Hong Kong and Australia and has spoken widely around injustices in this field. In 2016 she led for the Appellant in R v Jogee [2016] UKSC 8, when the UK Supreme Court corrected an error of law in complicity. Beatrice was a key expert assisting on the Jogee appeal and has since published her edited collection: Accessorial Liability After Jogee.
Register today – https://www.eventbrite.co.uk/e/211761663837/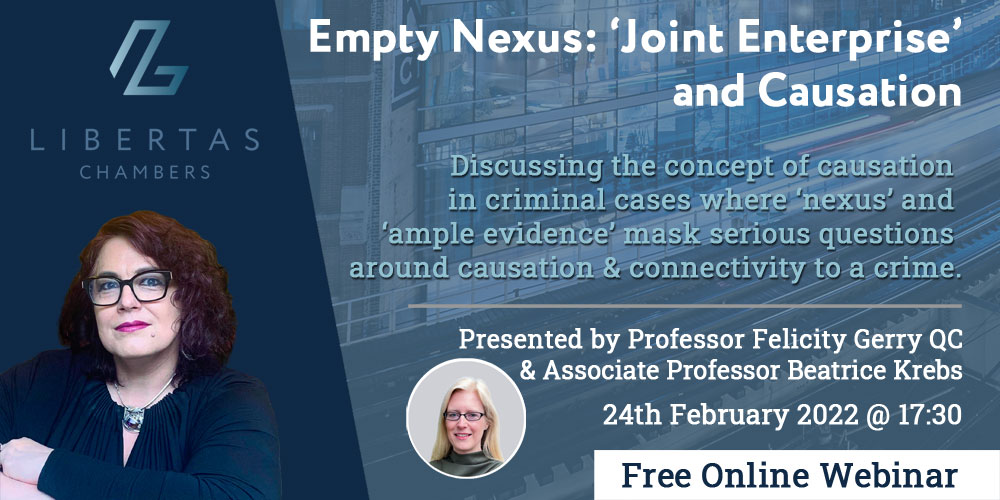 To ensure you don't miss out on future events please register for our newsletter by clicking here.