This event has been postponed due to illness. We will reschedule as soon as possible. We are sorry for any inconvenience this has caused.
ART LAW, ORGANISED CRIME AND THE DIGITAL MARKETPLACE 
This webinar presents the research of Dr Jonathan Harris from his edited collection Terrorism and the Arts Practices and Critiques in Contemporary Cultural Production
We will also consider art law in the context of cultural loss, illicit trade and the legal issues arising from recent momentum of the digital marketplace, including non-fungible tokens through blockchain as certificates of authenticity.
Presented by our Dr Felicity Gerry QC and Fahrid Chishty, and Dr Jonathan Harris.
Felicity is experienced in AML/CTF law applicable to organised crime involving antiquities and is currently instructed in a complex historic matter involving reparations for cultural loss. Dr Harris (BCU) is an expert on Globalization and Contemporary Art and Fahrid Chishty specialises in organised crime, fraud and financial crime. Fahrid's research on the systematic erasure of historic Armenian heritage has been accepted for publication.
Register today – https://www.eventbrite.co.uk/e/art-organised-crime-corporate-responsibility-the-digital-marketplace-registration-327165349367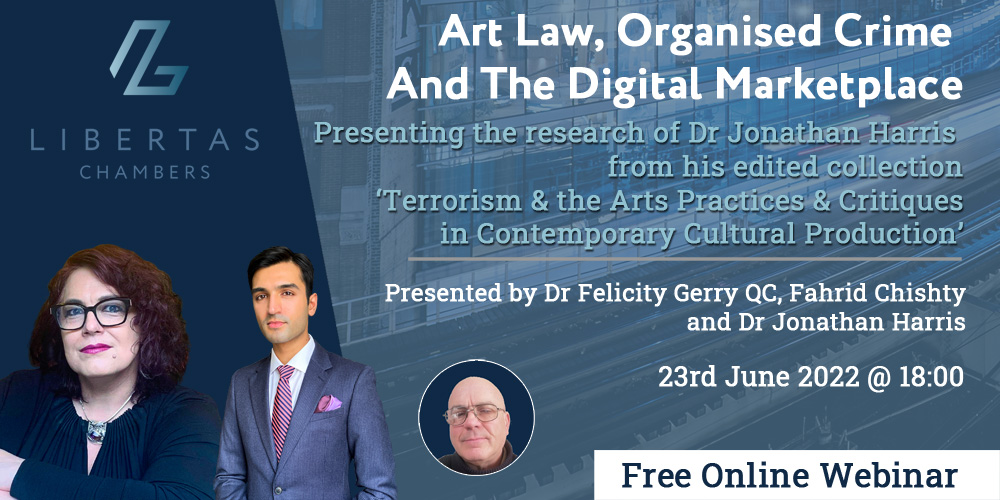 To ensure you don't miss out on future events please register for our newsletter by clicking here.